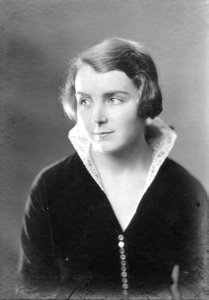 In 1926, at the age of 22, Ethel Barrow earned her medical degree at Liverpool University in England. She spent the following year at Children's Hospital of San Francisco, during which time she caught diphtheria from a young patient and nearly died. She spent her second post-graduate year in 1927 studying Pathology and Bacteriology at the Mayo Clinic, where she was greatly influenced by the already famous Mayo brothers, Drs. Charles and William Mayo. It was there she met her future husband, Dr. Kenneth Frater, who was completing his training in Urologic Surgery.
After returning with her husband to his native country of South Africa, she became increasingly active in the health care of the poor. After seeing the health and social costs for her patients, she campaigned for public instruction in birth control to help reduce unplanned pregnancies among the many poor women of the community she served. Later in her career, she taught Microbiology at the University of Cape Town Medical School and was involved in early efforts to locally produce penicillin from cultures sent from England by Sir Alexander Fleming.
After her husband Kenneth died of rheumatic heart disease, she became the director of Saint Monica's Hospital for Women in Cape Town and while there advanced the first training school for non-white midwives in South Africa. She developed a system for evaluating newborn infants that presaged now standard protocols by many years. She also represented South Africa at the World Health Organization (WHO). Throughout her career, she pursued equality of pay for women doctors and for non-white nurses. She became politically active, joining the Black Sash, a group of women who held silent protests against the government's apartheid policies but eventually left South Africa to return to her native England, where she lived for over thirty years. Finally, at the end of her fascinating life, she returned to South Africa. On her 100th birthday, she was greatly honored by former mid-wives and gynecologists who drove hundreds of miles to see her. Always a loyal subject of the crown, she was quite proud to receive a letter from her majesty, Queen Elizabeth II of England, congratulating her on her longevity. She passed away in her sleep at the age of 102.
As part of her legacy, Dr. Barrow influenced numerous young doctors, nurses, midwives, both privileged and underprivileged, who received the benefit of her combination of great intellect, compassion for the less fortunate, and diligent attention to the smallest details. She demonstrated the importance of both social conditions and medical conditions in the health of the whole person, and showed by her example why caring is the best reason for being here.